Computer Salesman Turned Entrepreneur in Just Four Months
Bill Roberts, of Wilton, Connecticut, began his entrepreneurial journey in March of 2019. He worked in a family textile business for 35 years, then transitioned into POS computer sales. 
While POS or "point of sale" systems are an integral part of any restaurant or retail business, so are the huge convection ovens and walk-in coolers and freezers used to store food. 
Powered by HVAC units, these machines consume massive amounts of energy. But you need them to have a successful business! Clearly there's a problem here. 
"In the restaurant industry, you can't keep raising your price. And you can't keep making the plates smaller. So the only place you can save money basically is in cutting your overhead," Roberts explained. 
Being in the restaurant business for 20 years, Roberts fostered many professional relationships with restaurant owners that soon blossomed into friendship. Like any friend would, he wanted to help his long time business partner, Maurizio Ricci, owner of Osteria Romana in Norwalk, Connecticut to save money.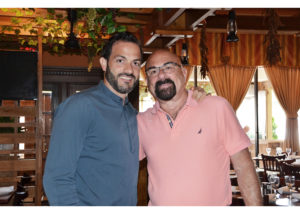 He already sold them POS computers to allow efficient transactions, food ordering, etc., so why not give them a user-friendly tool to save money and energy? 
The solution was simple. A "no brainer," as Roberts puts it with these two innovative products: IntelliHVAC and EnerG2. 
IntelliHVAC retrofits to your existing HVAC system and does a couple of things. 
First, it optimizes the time the fan runs at the end of a compressor cycle, so hot or cold air isn't wasted because after all, what is efficiency? The absence of waste. 
Secondly, it cycles the compressor off for 5 of every 25 minutes, allowing the fan to capture the latent energy and circulate that air. 
What does that mean for a business? Well, most businesses see a 10%-30% reduction in kilowatt-hours. That usually translates into a return on investment (ROI) in less than a YEAR. 
Now, about the walk-in. The thermometer in there is actually measuring the temperature of the air, not the food. Air temperature naturally fluctuates a lot more. Therefore, most walk-ins waste energy. 
EnerG2 is a device containing a non-toxic, food-safe gel compound with similar thermal properties to food and beverage. It fits on your existing temperature probe and gives a much more accurate reading, reducing your consumption by 15-35%! 
Both products have a lifetime warranty and guaranteed satisfaction businesses like McDonald's, Subway, and Pizza Hut have saved over $90 million! Keep in mind that businesses with multiple locations may qualify for a risk-free trial. 
Contact your Viv Life Consultant to learn more! You could be saving thousands.